To better cover the various aspects of the subject matter, this article has been split into one main page and several subpages. Select which one you wish to read.
Ginger Breadhouse debuted in the cartoon series in the Chapter 3 webisode "Ginger in the BreadHOUSE", which premiered on January 06, 2015. Ginger Breadhouse is voiced by Salli Saffioti, credited as Celeste Henderson in the English version of the cartoon.
Chapter 3
Edit
Webisodes
Edit
Ginger leaves sweet treat gifts for her classmates at the dorms, finding them alarmed the next morning because of her mother's destiny, who tried to lure Helga and Gus Crumb's parents to their doom. Raven is sympathetic of Ginger, who believes they just need a push. By calling in Jack Horner, Ginger's sweets are approved by him. Ginger in the BreadHOUSE She attends the class field trip to the Legacy Orchard. The Legacy Orchard Ginger is part of cooking class. After witnessing Raven's spell gone wrong, Ginger snaps at the gingerbread men and they all decide on working together due to Ginger's reasoning. Sugar Coated Ginger watches Apple and Raven's croquet match. Croquet-Tastrophe!
TV specials
Edit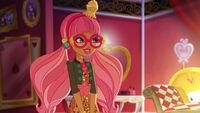 Ginger encourages Blondie to introduce everyone to the Chef Showdown at the fair. Ginger walks over to Raven, Madeline and Apple and asks where she can fetch Wonderland water. Madeline directs her to Lizzie, where Ginger takes a picture of the map's next location thanks to Lizzie's map book. In the Enchanted Forest, Ginger finds the well eventually and gets out her measuring cup and easily tries to scoop up the water, though it contracts at her scoop and it does so for a while. Having had enough, Ginger tries catching it by surprise and accidentally falls into the well, entering Wonderland and landing in a hanging teacup from the abandoned Mad Hatter's Tea Shoppe. There she finds the White Knight, who she feels threatened by at first. With their help, however, Ginger is able to uncover a Wonderland riddle engraved on the oven and teleports her message baked in a pie to her friends back in Ever After. Later that day, Ginger and the White Knight traverse to Ever After and Ginger promises to keep how they got back a secret, though she's unsure. Spring Unsprung Ginger has breakfast in the castleteria. Way Too Wonderland
TV special gallery
Edit
Ad blocker interference detected!
Wikia is a free-to-use site that makes money from advertising. We have a modified experience for viewers using ad blockers

Wikia is not accessible if you've made further modifications. Remove the custom ad blocker rule(s) and the page will load as expected.