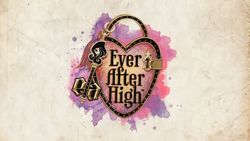 Among the promotional material Mattel produces to bring attention to the Ever After High dolls, the most prominent product is the Ever After High cartoon series. Released as a mix of many webisodes of a few minutes long and a small amount of TV specials of half an hour, the cartoon is the primary medium through which new characters and accessories are brought to the audience's attention. The animation is produced by Guru Studio. 13 longer episodes are due to premiere on Netflix in 2015.[1]
Mattel currently releases a new webisode biweekly via the Ever After High YouTube channel and the video portion of the official Ever After High website. However starting 2015-onwards, the uploading schedule has been transitioned from biweekly Tuesdays to Fridays.
Chapter 1
Edit
Chapter 2
Edit
Chapter 3
Edit
References
Edit
Ad blocker interference detected!
Wikia is a free-to-use site that makes money from advertising. We have a modified experience for viewers using ad blockers

Wikia is not accessible if you've made further modifications. Remove the custom ad blocker rule(s) and the page will load as expected.